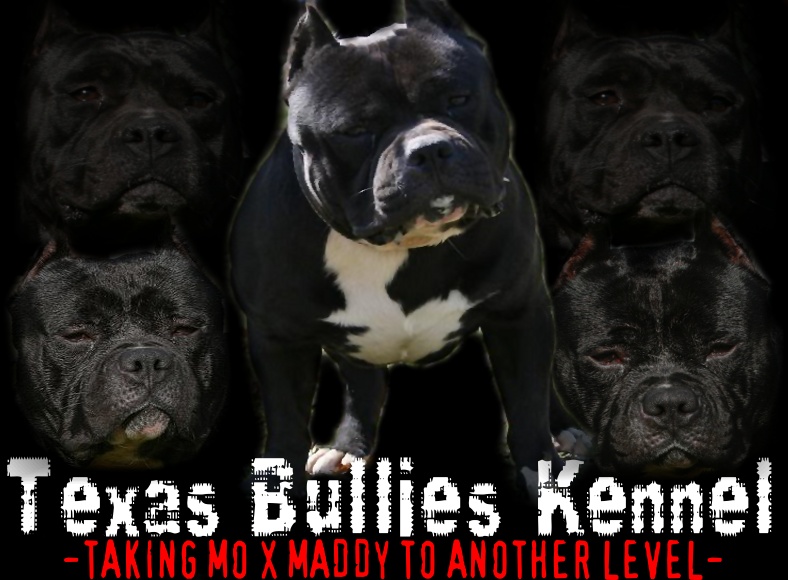 NO DOGS WILL BE SOLD FOR ILLEGAL PURPOSES!
We are a small kennel located in Livingston, which is in East Texas. Having a small kennel enables us to care for our dogs one on one. We strive to produce the all around outstanding American Bully. We breed for quality, temperament, conformation, blocky heads, wide chests, overall structure, and the original heart of the APBT. Our main bloodlines are Razor's Edge and select outcrosses of Gotti and Gaff. All of our dogs are registered through UKC and soon ABKC.
We update our site regularly, so check back to see what we have planned. If you would like to add your site to our Links page, please e-mail us your banner or web address and we'll be happy to list you.
Mo took 1st in the 3 & up category at the Dallas show on March 10, 2007! We are very proud of our boy.
Tum Tum takes 1st in the Jr. Males on September 20th, 2007 at the Conroe Show. This boy has a lot of growing to do, so we hope this won't be his last win! Thanks to everybody who showed our boy love. 
Chrissi

(936)585-5152

(936)635-7646 cell

E-mail:

Omar

(936)585-5152

(936)635-7647 cell

E-mail:

Copyright©2004 site designed by Texas Bullies Kennel